Many parents feel frustrated and very anxious about making the right treatment choices for their children. I am therefore writing a blog series to share some information with you on some of the treatment approaches I use within my private practice.
What treatment approaches are available to help my child with Cerebral Palsy improve their motor function?
This list below shows some of the treatment approaches available to your child. Your physiotherapist will work alongside the wider healthcare team of doctors and therapists. They will help you decide which treatment approaches may be suitable for your child.
This is not an exclusive list of treatments.
Physiotherapy Specific Interventions:
Neurodevelopmental Treatment

Goal directed strength / functional training (GDT)

Active and passive sustained stretching

Aquatic Therapy

Early Intervention (EI) and Home Exercise Programme (HEP) – These are not specific treatment techniques though an essential approach.

Mobility devices and equipment (specialised seating and standing frames)
Therapy and Medical Treatment interventions:
The interventions below are often carried out with a team of healthcare professionals such as physiotherapists, orthotists, orthopaedic consultants, occupational therapists, neurologists and paediatric consultants.
Optimal Segmental Kinematic Alignment Approach to Rehabilitation (OSKAR) – Orthotics / Leg splints

Lycra

Serial casting

Constraint-Induced Movement Therapy (CIMT)

Single Event Multilevel Surgery (SEMLS)

Botulinum Toxin Injections and or tone modulation medication

Neurosurgical (Selective Dorsal Rhizotomy / Deep Brain Stimulation / Intrathecal Baclofen Therapy)
I have not discussed Complementary and alternative therapies for cerebral palsy in this series of blogs. 
I shall continue this blog series with a brief overview of the importance of Early Intervention (EI) and Home Exercise Programs (HEP). I advocate for both and implement both when treating children with Cerebral Palsy.
What is Early Intervention and Why are Home Exercise Programmes Important?
Early Intervention is very important for all children diagnosed or at high risk / showing signs of Cerebral Palsy. Neuroplasticity is the reason we need to provide interventions as early as possible. 
What is neuroplasticity?
Neuroplasticity is the brain's ability to change – to rewire, relearn and strengthen important connections.When the brain is injured, neurons (

specialised cell transmitting nerve impulses

) are damaged, altered or lost causing disability. 

The brain will attempt to create new pathways around an injury, or allow a healthy area of the brain to take over, or relearn how to do things by strengthening an existing healthy connection.

Neuroplasticity requires practise and repetition for the brain to attempt to create and reinforce new neural pathways to learn new skills.

Every child is born with 100 billion neurons in their brain. That's a massive amount of nerve cells ready to start exchanging electrical impulses and creating neural pathways.

You're never too old to learn, the first five years of life are critical for neurological development. During this time, the brain is developing at a rapid speed. This makes it the ideal time to facilitate neuroplasticity through therapy. This is why early intervention is key.
I now understand why I should start therapy such as physiotherapy early but why is the Home exercise programme so important?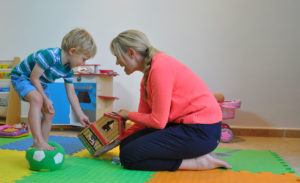 Remember physiotherapists and other therapists will only see you child for short bursts of therapy. It is the physiotherapists role to teach you and key people in your child's life how to incorporate the physiotherapy programme into your child's everyday life with fun, play based functional activities.
Children who do not regularly use and practise a skill can lose these skills and the brain function dedicated to these skills – Use it or lose it.

Training or specific practise will enhance a function. Follow a home exercise programme at home, nursery or school. Your physiotherapist will teach you, close members of your family and teaching assistants to incorporate physio into your child's everyday life.

Repetition and intensity is required to induce plasticity, refinement of the skill and memory for how to perform the skill.

If the tasks are motivating for the child more plasticity occurs and compliance for physiotherapy. It needs to be functional, fun and motivating.

Plasticity occurs more in younger brains. Even if your child doesn't have a diagnosis of cerebral palsy, but are high risk and you are noticing delays in their development – start therapy such as physiotherapy as early as you can.

Practising skills should occur in multiple environments, so that the child can learn to carry out the task without you being present or with other distractions – transference of skills is essential.

Plasticity can be for good or bad. For example if your child is doing something the wrong way they can form bad habits. It is hard to unlearn these habits. Your physiotherapist can observe your child and analyse how they are preforming each motor skills to let you know if they are using any abnormal motor patterns. Addressing this early is key.
Take Home Message
You, as the parent, are the most important influence on your child's development. Advocate on your child's behalf.
Speak to your physiotherapist about implementing the principles of neuroplasticity into your child's therapy program.

Consider ways to increase how often your child practises skills by:
– Continuing physiotherapy and other therapies at home, school or in the community. Your physiotherapist can work alongside other therapists such as speech and language therapists and occupational therapists to collaborate a joint therapy programme and goals for your child. 
– Undertaking an intensive therapy program while your child is young to embrace the optimal window of neuroplasticity. Focus on short, intense bursts of therapy to work on a specific set of goals.
 – Ensure your child is motivated within therapy and has helped to set goals that are fun, motivating as well as functional.
– Discuss the best way to devise a physiotherapy programme for you and your child to follow with your physiotherapist. This could be video clips, photographs, drawings etc
– Ensure your child's school or nursery is on board with the therapy your child requires and are happy for your physiotherapist to teach the programme in nursery or school.
Top Tip
Write down all your questions about the different therapy approaches you are considering and discuss these with your physiotherapist and medical team. Some will not be suitable for your child and your team can explain why. Some will require a special assessment with a team that have expertise with that procedure / treatment.
Cerebral Palsy is the most common childhood movement disorder in the UK. There are lots of treatments options available for your child. And lots of ongoing research to investigate the benefits of these treatment options.
 Contact us for an informal chat to ask any questions specific to your child. We have children's physiotherapists who are specialists working with children with Cerebral Palsy within Surrey, Sussex, Kent, Hampshire and parts of London. https://wanderlusttherapyforkids.com/contact/